Blog
Cake Feeder Scales 1/1/18
Use your smartphone or this small compact readout on a cake feeder scale from Central City Scale.  Use a Ram mount or bolt the indicator to the dash.  The multipurpose, 5000-lb. scale systems runs on 12vDC or 110v AC power.  The load cells act as bolt-on feet to fit under the four corners of the feeder, deck or platform.  You may also use the Libra Express app to view weights from your smart phone ( available only for iOS).  
Portable Platform Scales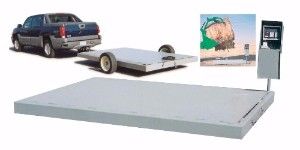 Central City Scale Portable Platform Scales measure 7' ½" or 8' ½" x 10' 8" with 50,000 lb. capacity. Available with a choice of digital indicators to fit your operation. Options include: detachable ramps, removable livestock racks, indicator stand, wheels and axles (removable), ball hitch assembly, remote display and weatherproof indicator box with printer.
New Portable Group Animal Scale for Weighing on Location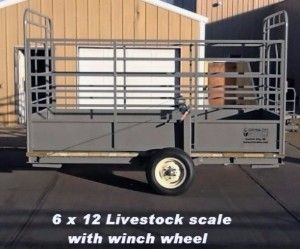 Weighing livestock on location is simple and convenient with the new Central City Scale 6' x 12' Portable Group Animal Scale. This portable scale consists of a wood plank floor and pen sides suspended on 30,000 lb. weigh bars within a portable steel I-beam frame. The fully retractable wheels allow for quick positioning and set up to save time. Dual gates help with safe, efficient traffic flow. This scale unit is equipped with the field-proven Avery Weigh-Tronix® 640 indicator that is simple to operate, yet accurate and reliable. Complete with hitch bar, power cords and racks, this CCS portable scale is built strong to hold up during the rigorous demands of weighing livestock on location.
Big Dog Scrapers Easily Handle Leveling, Grading or Lot Cleaning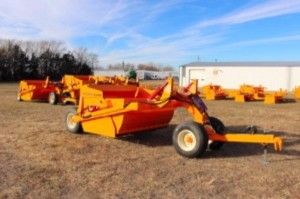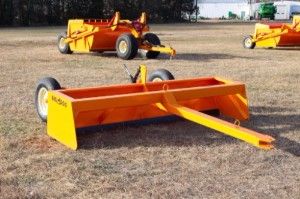 Big Dog Scrapers Easily Handle Leveling, Grading or Lot Cleaning
The Big Dog BH Series Movers/Scrapers and the BH-100 Feedlot Series offer the producer versatile earth moving capacity. Great for all types of leveling, finish grading and back filling applications for commercial feedlots, outdoor arenas, building sites, maintenance operations on farm and ranch roads or construction sites. The BH Series is available in 10' or 12' widths, is built solid with 3/8" end plates and has a dump height of up to 18". The BH-100 Feedlot Series is also available in both 10' or 12' widths. End plates are 1/2' thick and 41" in height. This unit allows up to a 24" dump height. Both the BH Series Movers/Scrapers and the BH-100 Feedlot Series work well with 75-100HP tractors, are equipped with 6" reversible blades and units can be adjusted to tilt right of left. For those larger capacity projects, Big Dog Forced Ejection Scrapers are available in 11, 8 and 6.5 yd. capacities and 7' or 7.5' width of cut for 160 to 240HP tractors. Call 308-946-3591 or visit us at www.ccscales.com or www.bigdogscrapers.com.
At Central City Scale, we know that not every wheat farmer has vast fields that continue to the horizon. That is why we look for articles like this one to help small-scale farmers be aware of the new equipment out there that can make harvesting faster and more efficient. Click on the image above to learn more! This article was previously posted by Fields of Seed.
At Central City Scale, the customer is our number one priority. Click on the image above to view some helpful safety tips from Maumee Valley Agriculture and Natural Resources to keep our customers safe during the upcoming harvesting season. Hope you enjoy!
Click on the image above to view the most current cattle market reports from Ag Center. Hope you enjoy!