Cattle Working Chute Scale Kits
Working Chute Scale:
Working Chute Scale Kit: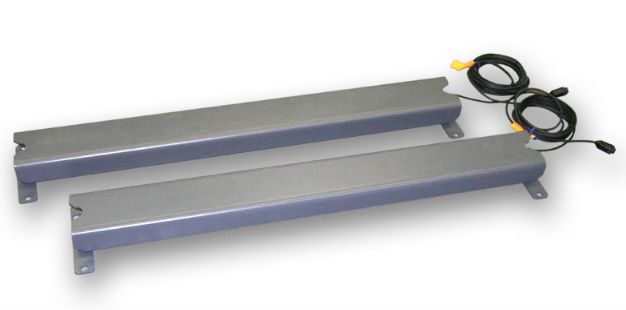 Chute Weigh
The chute weigh system is ideally suited for installation under a manual or hydraulic livestock squeeze chute or livestock scale.  There are two different Chute Weigh system capacities at 5,000 lb or 10,000 lb to fit the proper application.  The ease of installation and setup allows the system to be accurately weighed in just minutes. Installation can be portable or permanent depending on specific application.
Chute Weigh-Complete Scale Kit
Includes: two Chute Weigh assemblies, 12 VDC wall-mount transformer, Model 640M scale indicator, and indicator mounting bracket. Recommended Model 640M indicator features include: large backlit LCD display, Auto-Loc feature to capture livestock weight, Auto-Accumulate livestock weight and statistics with the number of livestock weight, total weight, and average weight. Other indicator options include the Model 640 XL.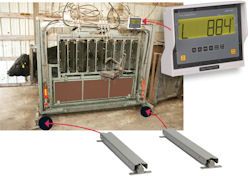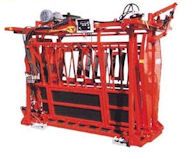 4- Bar Kit
Additional Features & Benefits:
Large weight capacity—5,000 or 10,000 lb. gross weighing capacity (2500/5000 lb. per weigh bar).
Low profile—Less than 3.50 inches tall.
Heavy-duty construction—Super heavy duty steel chassis construction.
Easy mounting—Mounting under manual or hydraulic livestock squeeze chutes.
Weigh bar cables—Tough polyurethane weigh bar cables, 20ft long.
Weatherproof construction—Aerospace-developed sealing agent provides ultimate protection against moisture and ensures long term durability in harsh agricultural environment.
Extreme Temperatures—Operates from -20 degrees to 140 degrees F.
Herd management—Weight indicator is compatible with various herd management EID software packages.

640 XL Indicator
The Model 640XL is a general purpose indicator which provides simple, yet accurate and reliable weighing used on mixers, grain carts(grain chasers), livestock scales, feed bins, weigh carts and many more applications.
Simple Operation – ZERO key zeros the scale, PRINT key transfers weight data to printer, computer, or transfer data module (TDM-40)
Gross/Tare/Net – G/N key allows viewing of either gross or net weights. TARE key is useful for temporary "zeroing" of the scale
Motion Filtering – Enhanced dual "harmonizer" filtering settles down weight display for easy viewing. Ideal for filtering excess motion on mixers and livestock applications
Memory Accumulators – 100 six-character alpha-numeric accumulator channels. Useful in identifying fields, seed type, livestock groups or amounts of recipes batched and or fed. Is compatible with EID software.

Tru-Test EziWeigh 7
Tru-Test's Ezi Weigh7 is an accurate and easy to use weigh scale indicator, setting the standard in efficient and productive animal management.
With the capability to record information against Visual ID (VID) or Electronic ID (EID) tags, you can easily capture and analyze individual animal performance and history. Replacing guesswork with fact, the Ezi Weigh7 displays live weight gain since the previous session, showing animal performance right there in the field.