Remote Displays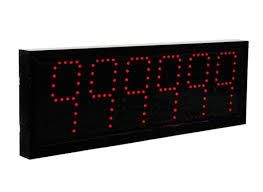 Scoreboard Remote Display
The 4″ tall Scoreboard remote display features bright red LEDs to clearly show scale data in any lighting condition. The serial port interface and auto learn feature make connecting to an indicator a snap!

In-Cab Remote Display
The In-Cab Remote display is designed to remotely display the value of a scale indicator that is equipped with a radio transmitter.
For applications where you want to know the weight but don't want to get out of the cab, the In-Cab Remote fills the need.