Scale Specials
The Portable Platform Scale is an economical solution to weigh truck axles, single or tandem. Two weights are required for a straight truck, three weights for a semi-truck.
Specials on Individual Animal Scales Call For More Info 308-946-3591
Used GT 460 Indicator $1295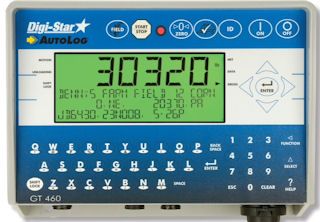 A full-featured grain cart interface system that provides significant field recording and management benefits for producers and custom harvesters.
GT 460 harness is wired with AutoLog2 sensor
A large multi-line display can show the last record, what is currently being loaded and can provide paperless printer capability.
Navigational keypad to review previous loads, or edit field information
FIELD button for viewing and changing the 26 character alphanumeric data field
CHECK feature to check or calibrate the combine's yield monitor
QWERTY keyboard to easily edit or change field information
Time and date stamp data to verify insurance records or custom harvest purposes
Accumulation of weights per field entry
Bi-directional field names from PC to indicator via USB
Weigh-Tronix 615 Indicator & XL 2" Remote Display $1,295 for both items.